July 30th, 2007
In a rather "retro-esque" move, Google Channel decides to post an "introductory lecture" called "A Glimpse Inside the Metaverse" (a video about the metaverse platform called Second Life) in YouTube (posted on July 23, 2007).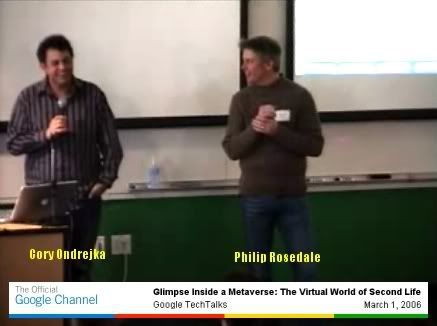 Take note that the actual video itself was shot on March 1, 2006, more than sixteen months ago. Some of the things that Philip Rosedale discusses in this video are not applicable anymore, in that Second Life has grown almost tenfold since that time, but some of his predictions (esp. population and economics) have come true. The main speaker is of course, Philip himself, and is assisted by Cory Ondrejka.
You can view the video here. Take note, the video is almost an hour long, but is a quite thorough, educational, and insightful discussion about the future of this metaverse platform.