January 17th, 2008
Recently, the Avatrian Team had the rare privilege to encounter the very talented builder and scripter Aaron Cerveau, well-known in Second Life as the developer of the very popular Fantasy-themed combat system known as SPELL FIRE.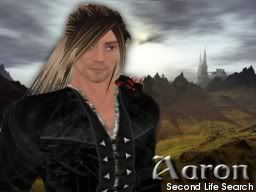 As you may know, Avatrian has recently started to slowly adapt and integrate the Spell Fire combat system into selected Avatrian Armour. Aaron was busy working on some new products he was developing for the Spell Fire system, when Avatrian Staffer Bonji Barbosa chanced upon him in his sim. He then paused to talk to Bonji, and the other Avatrian Team members who TPed into the island one by one…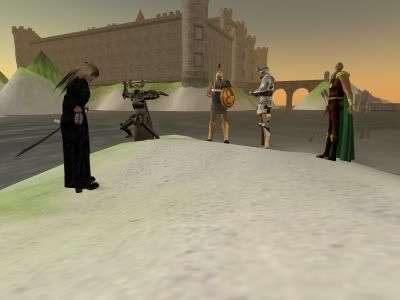 Even though it was an informal encounter and chat, Avatrian members managed to have a short interview with Aaron:
Avatrian: We are currently integrating your Spell Fire armour scripts into our Avatrian Medieval Line of Armour. Tell us, is there a way for the users to be able to still modify their armour, even though your "non-mod" script is already imbedded in it?
Aaron: There is no good solution for this, because it is an SL problem. The only easy way I can think of is to put the scripts in there separately. This will of course make the customer have to do more work I understand. SL doesn't always give us the best options
it's unfortunate for me as well, I have just stopped making swords with belts and things because people can't resize.
Avatrian: We see you are working on some "creatures". What are these beasts? NPCs….non player characters?
Aaron: yes lol…they need a bit more work, but they are coming along. Another developer is helping me with the movement. (For now) they only like flat surfaces it seems…they are a bit "buggy" lol.
Avatrian: How do you feel about the Spellfire system now, compared to other medieval/fantasy-themed combat systems out there in SL now?
Aaron: I do feel it's one with some of the lowest lag…lag was a big one for me when I started SL…I guess I like spell fire because of all the options…swords, magic, eating etc…also I think that Spell Fire has some things that I don't think any other meters have…I don't know of any others that have actual working armor.

After the talks, Avatrian Team members were treated to a wonderful rare opportunity--to engage in combat with the creator of the Spell Fire combat system himself! We fought it out with Aaron in several rounds, usually free-for-all, "last man standing" sort of melees. At first he kept beating the Avatrian team members one by one, but during one of the final rounds, he was finally struck down by Bonji, proving that the maker himself is not immune to his own creation indeed, and that he fights honorably well! Here are images of some of the combat aftermaths: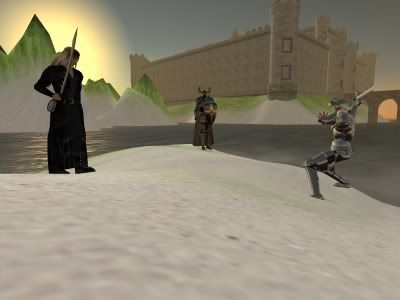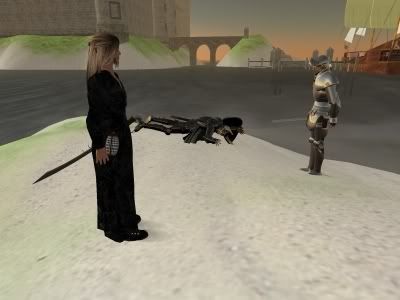 We would like to take this opportunity to thank Aaron Cerveau for answering all our queries about the Spell Fire Combat System, and for taking time out to join us in friendly combat.
The Spell Fire System can be examined and bought at:
secondlife:///app/teleport/Azora/64/185/33/